We caught up with two of our Sports Scholars heading for the Commonwealth Games
Athletes from across the world are now making final preparations for the Birmingham 2022 Commonwealth Games. Right here at Oriam, we are proud to host several athletes and coaches now selected to represent Team Scotland and you can feel the anticipation and excitement building every day! Amongst this year's team, are two of our own Heriot-Watt Sports Scholars, Lisa Aitken and Alex Short. We caught up with each of them to find out more about their journey to this year's Commonwealth Games.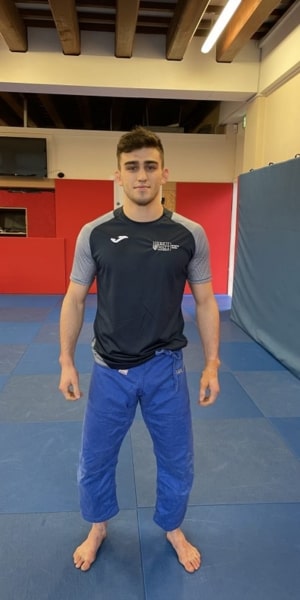 So first things first, where were they when they found out they had been selected for Team Scotland?
Lisa spends a lot of time travelling between training and competitions, so she got her call whilst sitting in an airport. She told us "the national coach gave me a call which was such a relief because even though I'm the highest ranked female player and number one in Scotland, there was no guarantee that meant I was going to go." There were only four spaces available for Squash in Team Scotland and six athletes in contention however, the whole team performed so well this season, all six athletes were awarded a space.
Alex was at home when he got his call, interrupting his TV show during some well-earned downtime. "Luckily the team manager is also one of my coaches, so it was quite an easy chat. Obviously, I was pretty excited, but I kind of knew that I was already going to be selected because I had met the selection criteria." This will be Alex's first Commonwealth Games, he made a strong start early in the season which put him in a good place for team selection this year!
Any Commonwealth Games year can be a challenge for athletes aiming for selection, but the preparations for this year have had the additional challenges of Covid-19; impacting training, travel, competitions and of course the academic studies for our Sports Scholars. We talked to Alex and Lisa about their biggest challenges this year, and how they manage to balance their training and studies as a student athlete.
For Alex, the biggest challenge was managing training, competitions and fourth year studies for his – degree. "It's been a nightmare with testing, isolating and then, you know, getting COVID and training getting shut down for a couple of weeks. And then on top of that, all the things going on at uni. It's my fourth and most intense year and it kind of fell within the qualification period."
"It is difficult, but with the right support and kind of networks around you, especially when your sports programs are receptive to the academic side of things, then it's quite easy to do both." Having the access to support from both the sport and academic side, with the addition of blended learning has made studying whilst travelling for training and competitions achievable. "That helped me massively. You know, I was studying in airports and hotel rooms for the last six months, but it's doable."

Lisa's year has been full of challenges too, including missing competitions due to Covid and injuries but she has persevered and made every match count to maintain her ranking as number one in Scotland. She said the University and the Sports Scholarship program means "I've got advice and assistance on tap" which relieves a lot of the stress about balancing deadlines, exams and competitions.
"It's made me assess what's important in the day. So rather than doing a lot of training and a lot of studying because there's only so many hours in the day, it's prioritizing what's really important with the training and what studying needs done and making sure it all gets done in the day."
"Ironically, my squash performance and my world ranking has increased since coming to the university."
The past year may have had its challenges, but the journey to the commonwealth games can be a lifetime in the making. We asked how each of our athletes got started in their sport, and what's inspired them to get this far.
Both Alex and Lisa started out at local clubs or sport centres, signed-up by parents to help burn-off some energy when they were kids!

Alex was four when his Mum signed him up to judo. "I played all the sports under the sun, but Judo was the one. And probably my first memory was probably something silly, like doing a forward roll onto a crashmat."
Since then, he has persevered and worked hard, inspired by world class judoka including Pat Dawson, a fellow Judo Scotland Athlete.
"Judo has got so many different aspects to it. You need to be strong, fast, good technically and strong willed. But the biggest one is just having a strong heart. And I mean, it's cheesy, but I was never the strongest, was never fittest, I was never the best. I just tried the hardest. And that's kind of why I've done much better than what any of the coaches would have said at a young age.
Just having a strong heart, just trying your best. It's cliche, but it works."
Like Alex, Lisa tried all types of sports as a kid at her local sport centre in Montrose, but she was always intrigued by the noise and fast pace of the squash courts when she walked past them.
"I tried every sport, tried squash and fell in love with it. Hitting the ball as hard as I could, trying to make that loud noise and run around a million miles an hour. It was right up my street."
Reflecting back on how they started, we asked what advice they would give themselves now. They both had a similar message; move forward with courage and don't be afraid to lose or fail because you can learn most from those moments.
"[It] would be try to fail more and be okay with failing and getting it wrong… only in the last few years I've realized that actually most of your learning and your progress comes from getting it wrong."Lisa Aitken
"Always move forward without fear of losing or getting beat, because sometimes that can hold you back a lot more… there's nothing wrong with attacking or taking a chance and it not working. That will progress you much faster than playing it safe."Alex Short
Looking now to the future, what are they looking forward to most about this Commonwealth games?
For Alex, this is his first Commonwealth Games so it's a whole new experience!
"I'm just looking forward for the opportunity to display my judo and show what I can do. And I mean it's been eight years since judo was last the Commonwealth Games in Glasgow, so I'm excited to show that to a new group of kids, potential athletes what it is all about and hopefully, you know, inspire some kids and take it on."
This is Lisa's third Commonwealth games after competing in Delhi and Gold Coast previously. She thinks the weather in Gold Coast will be tough to beat but there's plenty more to look forward to in Birmingham:
"Being an individual athlete, we spend all season long on our own, traveling on our own.
So, coming into the Commonwealth Games, knowing you've got your full team of squash there and your coaches coming with you is one thing. But also every single athlete from every sport coming together like one big community is an incredible feeling that will always stick with me.
We also caught up with some of our performance team who work with the Sports Scholars here at Oriam. The whole team are very excited to see two of our athletes headed to the commonwealth games this year.
"The Oriam Performance Department wish our Sport Scholar's Lisa and Alex all the best for the Commonwealth Games 2022. Balancing both academia & sport at the highest of levels is no easy feat, so we are extremely proud of them for all their achievements to date and we cannot wait to see them compete on the world-stage this summer. Having been Sport Scholars and part of the Heriot-Watt family for the past three and six years, respectively, Lisa and Alex will have all of Oriam and Heriot-Watt cheering them on from near and far next month."Jen Hudson on behalf of Oriam Performance Sport Department
You can view the whole interviews on our youtube channel, we'll keep you all up to date with each of their progress in the games next month. Most of the Commonwealth Games coverage will be available to view on BBC channels or iplayer.