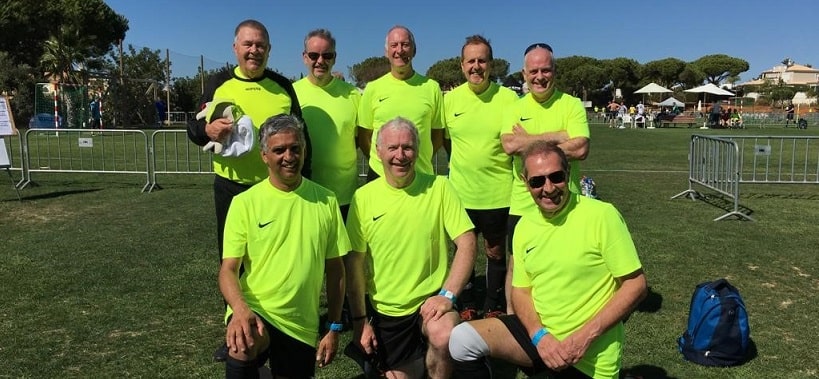 The Oriam Walking Football Team competed in this year's Algarve Walking Football Cup on 5 and 6 October at the Browns Sports Centre near Vilamoura. It was the team's first entry into the competition and our squad of eight (see the picture below) consisted of John Allan, Hasan Choudury, Ewan Connolly, Stewart Falconer, Les Hanratty, Jim Hastie, Willie Lumsden and Deric Oliver. We travelled with a lot of enthusiasm as well as a bit of trepidation and, it has to be said, pretty low expectations of how we would perform. Little did we know how things were going to turn out!
The format of the competition was quite complicated with 32 teams involved in an over 50 and an over 60 event and Oriam competed in the over 50 one along with 15 other teams, despite our average age of 64! Without going into too much detail, the tournament was extremely well organised and we are delighted to report that, despite the heat, the squad performed exceptionally well. We managed to win our initial qualifying group of four teams and then went on to achieve 6th position overall out of the sixteen teams in the competition. In addition, we reached the final of one of the four trophies on offer, missing out on silverware only in a penalty shoot out!
Over the course of the tournament, we beat teams from Browns, Ayr United and Exeter and drew with Sheffield Wednesday and another local Portuguese team. We were beaten into 6th place by Derby County and, in the final of a trophy, by a team from Canterbury. Everyone in the squad played their part with Les, Willie, Jim and Hasan getting amongst the goals for us in addition to Hasan saving two penalties in a shoot out with Exeter!
There was no doubt that we surpassed our expectations and it was a pleasure to represent everyone back at Riccarton and, of course, to be as successful as we were in doing so. We also had a pretty good time socially although it's probably best not to say too much about the karaoke!
It is worth mentioning that Hearts Walking Football also had two teams competing and both had a number of players who play with us regularly at Oriam. They also performed very well and, overall, it was an excellent exercise in continuing to develop the reputation of walking football in Edinburgh. Roll on the 2019 tournament!