Heriot-Watt University in partnership with Oriam, Scotland's Sports Performance Centre, are proud to be supporting 35 talented athletes across 15 different sports, through the Sport Scholarships Programme.
We start the 2023/24 academic year with 23 new sport scholars, most of whom join us in their first year at Heriot-Watt University, and welcome back 12 returning scholars, who meet the requirements for another year on the sport scholarship programme. These exceptional athletes have proudly represented their countries in international competitions, many winning championship titles and demonstrating their dedication and distinction in their respective fields. Three of our scholars competed at the 2023 Youth Commonwealth Games in Trinidad & Tobago representing England in Swimming, Hannah Bowley, Scotland in Cycling, Evie White, and Netball, Beth Logan. Sport scholar, Luke Crosbie, also represented Scotland at the Rugby World Cup in France 2023.
What is Heriot-Watt University's Sports Scholarship Programme?
Our sport scholarships are designed to embed a high-performance training environment into a sport scholars weekly schedule. Our scholarships operate on a top up basis, to complement any existing support already provided by the athlete's club or national governing body organisation. This approach acts as a fully inclusive method to ensure each individual can reach their full potential in their chosen sport, while simultaneously reaching their full academic potential studying at Heriot-Watt University.
Central to all our sport scholarships is academic flexibility. This forms a key pillar endorsed by Heriot-Watt University, which enables scholars to balance both their sport and studies. All scholars receive a complimentary Oriam membership granting access to world-class facilities and sport scholar kit provided to all athletes. Further support is offered on a top up basis and embedded into the weekly training schedule based on individual needs. This offers for a holistic student athlete experience. Our experienced team of Sport Scientists deliver bespoke strength and conditioning sessions twice a week, as well as the highly sought after recovery strategies in Oriam's state-of-the-art hydrotherapy pool. Physiotherapy support is embedded within S&C sessions and available by individual appointment at Oriam Clinic. Sport Scholars also have access to athlete lifestyle guidance, sport psychology support, and various educational workshops throughout the year. This covers a range of topics such as nutrition, anti-doping, female athlete considerations and professional development. Level 1 Sport Scholars, those completing at senior international level or hold a professional contract, are eligible for a 25% Tuition Fee Reduction.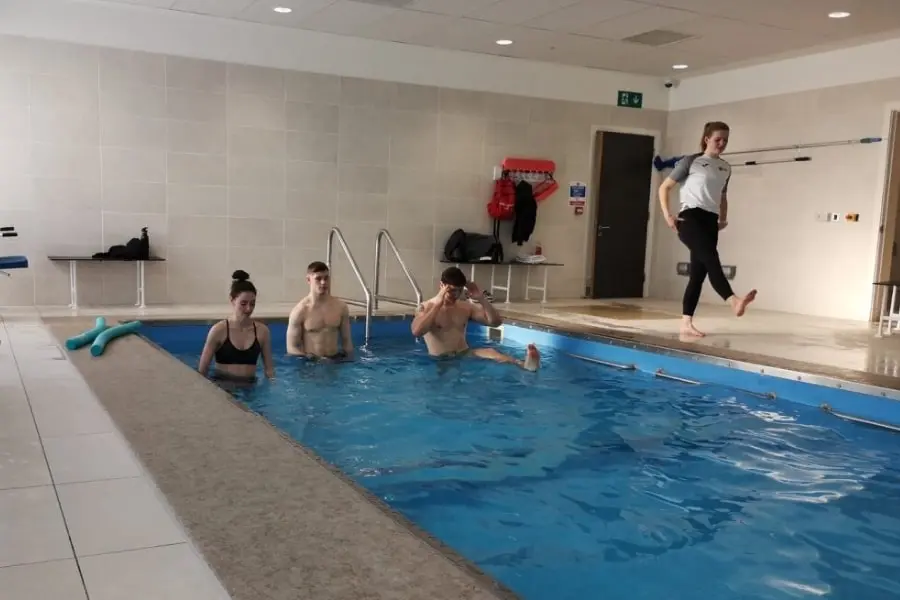 Performance Programmes
As we step into a new academic year, Heriot-Watt University is proud to celebrate the second year of its Football and Squash Performance Programmes. With the successful launch behind us and the remarkable achievements in BUCS in the inaugural year, both Head Coaches are excited to build on successes and continue striving for excellence in the world of student sport. Our programmes have not only been instrumental in nurturing exceptional talent but have also strengthened Heriot-Watt University's commitment to the holistic development of our student-athletes.
Football Scholarship Programme
Our Football Scholarship Programme led by Head Coach, Bejay Koya, welcomed 8 women and 12 men's football scholars onto the programme from across the world. The university's partnership with the Student Sport Company and Play Overseas, saw athletes from the USA, Canada and Lebanon, join Heriot-Watt to study their postgraduate degree and play football at the Edinburgh Campus. There is an abundance of talent within both squads, from experienced HW men's first team players returning to study postgraduate degrees, to women's footballers training and competing weekly in the Scottish Women's Premier League.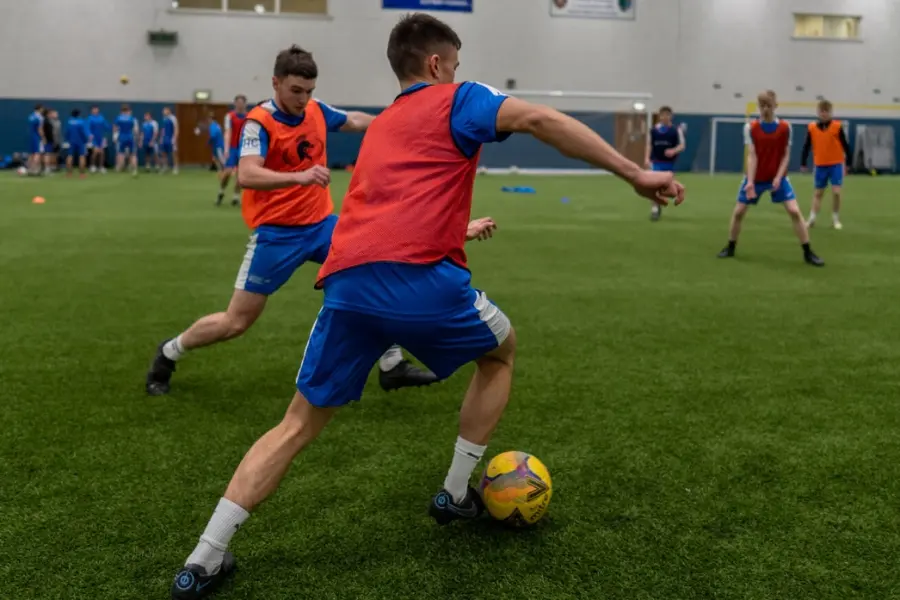 Squash Scholarship Programme
Head Squash Coach, Donna Lobban, introduced 3 women and 7 men's scholars onto this year's Squash Scholarship Programme. Big names include Scottish men's number 1 professional squash player, Greg Lobban, and one of Scotland's most decorated squash athletes, Lisa Aitken. Both Greg and Lisa competed in the squash mixed doubles, coming agonisingly close to a shot at medals at Birmingham 2022 Commonwealth Games. We are also delighted to welcome two new international squash scholars, Connor Hayes from Australia, starting his undergraduate degree in Sport and Exercise Science, and Yu Ng Chen, who transferred from Heriot-Watt Malaysia campus to join our Squash Scholarship Programme in Edinburgh. Oriam's partnership with Scottish Squash supports the seamless transition in training for our Scottish Squash/Heriot-Watt Scholars. It is a very exciting time for Heriot-Watt University Squash, and we cannot wait to see what the future holds.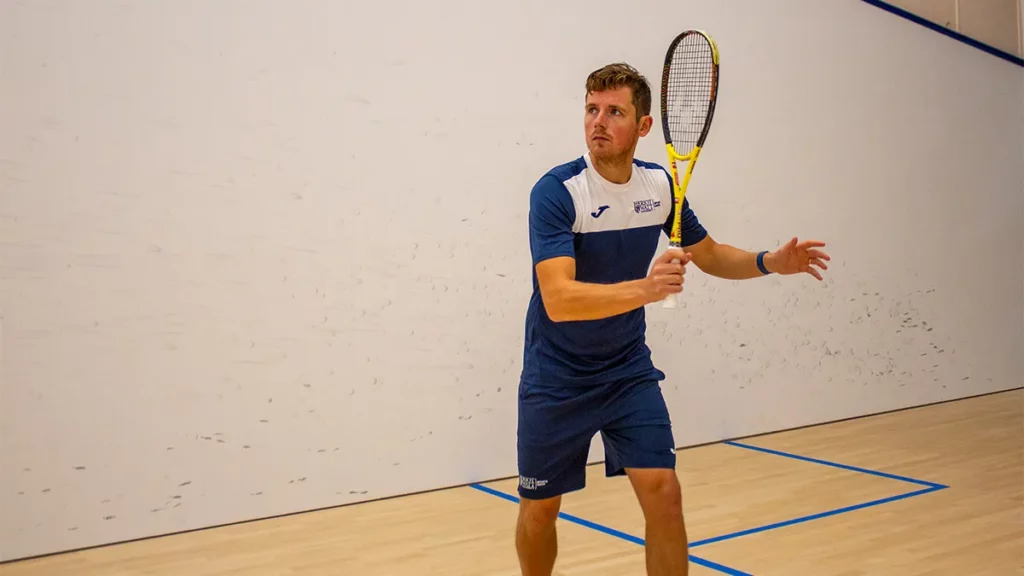 Dual Career Sport Scholar Athletes at Heriot-Watt University
For aspiring student-athletes, the pursuit of higher education while excelling in their respective sports can be a challenging endeavour. This dual career, balancing the demands of academics and athletics, requires unwavering commitment, discipline, and support. Our 2023/24 sport scholars feature in four out of the five academic schools, plus Edinburgh Business School, at Heriot-Watt University. The School of Social Sciences continues to be a favourite amongst student-athletes, offering both part-time and full-time degree programmes in courses such as Business Management, Economics and Psychology.
In its first year running, Heriot-Watt's postgraduate degree programme in International Sport Management, has been very well received by our Football and Squash Scholars and we are excited to watch the demand increase year on year. With the reintroduction of the Sport and Exercise Science programme in 2022, coupled with the presence of world-class sports performance facilities at Oriam, it remains the most popular degree programme among our student-athletes.
Sport Scholar Athletes – Welcome and Induction
The annual Sport Scholar Welcome and Induction took place on Wednesday 13th September 2023, and is an important event for those fortunate enough to be awarded sport scholarships. It offered a warm welcome to the 2023/24 scholarship cohort, easing their transition into the university and its performance sport department.
The event provided an opportunity for athletes to come together face-to-face, to meet their coaches, performance sport practitioners, Oriam staff, and fellow scholars, fostering a sense of belonging and camaraderie. Moreover, the Scholar Induction played a vital role in outlining the scholarship programme expectations, and defining the support system in place, to help the student-athletes excel in their chosen sport while maintaining their academic pursuits. The highlight of the event was the interactive session with Sport Psychologist, Jeffrey Webster, who led a scholar identity mapping ice breaker and discussion on 'what it means to be a scholar athlete at Heriot-Watt University.' The sport scholar kit was presented, and Heriot-Watt University's Communications Teams facilitated headshot photos of all the athletes and media capture throughout the day. The event drew to a close in the late afternoon with light refreshments and networking with support staff from Oriam and Heriot-Watt Sports Union.
If you want to find out more about sports scholarships at Heriot-Watt University and Oriam, or are interested in becoming a Sports Scholar yourself check out our information page at the link below.