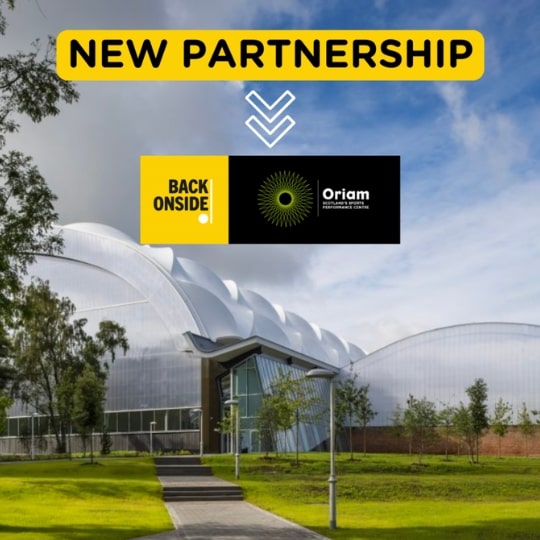 Back Onside are delighted to announce their new partnership with Oriam, Scotland's Sports Performance Centre. Opened in 2016, Oriam is perhaps best known for playing host to a range of high performance sports groups such as Hearts, SRU and SFA however the centre also provides a wide range of health & physical activity services to students, staff and the local community. With Back Onside being focused on supporting people with their mental health through sport-based activity, it seems the perfect partnership and both are looking forward to an exciting year ahead. While Back Onside's beginnings are firmly planted within football, the charity is keen to work with many more sports to provide mental health support.
To kick off the partnership, Oriam are hosting a charity match on 6th March which will see Back Onside Select dust off their boots for the first time since November and take on an Oriam Select side. As part of their partnership, Oriam will continue to host vital fundraising matches for Back Onside throughout the year as well as providing space for meetings and support the launch and running of the new Back Onside Academy. Back Onside in return will provide support and counselling services to Oriam staff and Heriot-Watt Sports Union volunteers and help promote positive wellbeing & mental health to their members. Libby Emmerson, Back Onside Founder said:
"We are so excited about our new partnership with Oriam. After a tough couple of years for our charity due to Covid restrictions stopping all our big fundraising events, this feels like a great way to kick off 2022. We can't wait to see where this partnership takes us as we have shared values and goals making it the perfect match for both sides."

 Libby Emmerson, Back Onside Founder
Founded on shared set of beliefs, Chris Sellar, Head of Delivery at Oriam, hopes the partnership will create a home away from home for the charity and the people they support. He also said:
"We are really excited about this new partnership with Back Onside as we are completely aligned on the value of sport and physical activity to create and maintain positive mental health. At Oriam, we are passionate about providing services that will enable positive physical and mental health and this underpins a lot of what we do. Back Onside has been growing in reach and impact over the last few years and we are delighted to be in a position to help support their growth at an exciting stage in their development through this partnership. We have many exciting ideas to bring to life under this new relationship, starting with the much anticipated Oriam select v Back Onside select charity match" 

Chris Sellar, Head of Delivery at Oriam
Back Onside is a Scottish based charity committed to tackling mental health illness. With 1 in 4 people experiencing mental health illness each year in the UK, yet only a quarter of these people receiving treatment, Back Onside work with both individuals and teams to tackle this, offering support and encouraging recovery through sport activities. They are focused on helping people by promoting self-confidence, raising self-esteem, unlocking inner potential and promoting sports-based activity. Back Onside are proud to count Sheridan Smith & Gary Hollywood amongst their Patrons as well as Ambassadors from the sporting world including footballers Kris Doolan & Junior Mendes & Scottish Rugby professional Fraser Brown.
For more information, please contact Libby Emmerson on 07528 243 100 / libby@backonside.com.