Prestigious Scottish Squash tournament making a comeback!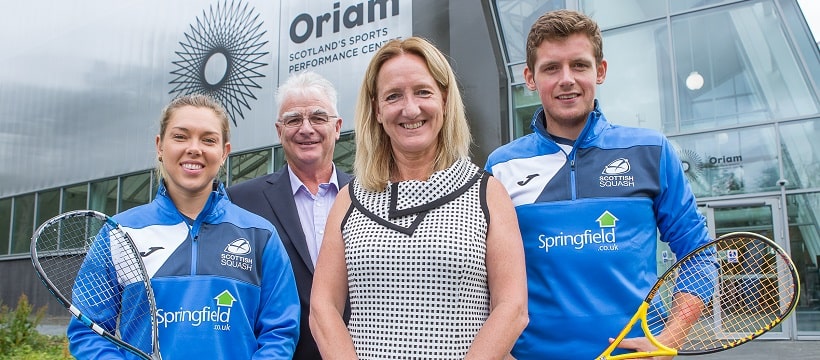 Oriam are delighted to be hosting the first, following an 18-year hiatus, Scottish Squash Open in April 2019. Thanks to backing from one of the country's leading housebuilders, Springfield Properties. The builder of private and affordable homes has partnered with Scottish Squash, and the Professional Squash Association (PSA), the governing body for professional squash, to bring back the Scottish Open.
The inaugural Springfield Scottish Squash Open will be a PSA Challenger 10 event with a $20,000 prize fund, which will be equally split between male and female players. The tournament, which was last played in 2001, is set to attract a raft of world-class players to Edinburgh as one of the most lucrative squash tournaments in Scotland next year.
Sandy Adam, chairman, Springfield Properties, said:
"I am very proud to announce Springfield's support of Scottish Squash, I look forward to welcoming a quality field to Edinburgh and bringing an important tournament back to life. In a commitment to growing the game, it is our hope to expand this tournament into one of the country's leading sporting spectacles and put Scotland on the map for squash.
"The Springfield Scottish Squash Open will act as a catalyst to revive the game across Scotland. It is an inspiring sport for young people; there is more to the sport than being physically fit and athletic, you must be as sharp mentally as you are physically to thrive."
Greg Lobban, currently 30th in the PSA world rankings, said:
"I was too young to remember the last time there was such a big event in Scotland in 2001, but players such as Peter Nicol and John White competed, and hopefully we can attract that calibre of players as the Springfield Scottish Squash Open grows.
"There will be equal prize money at both the men's and women's event and I think it's brilliant squash in this country is leading the way in that regard."
The sport's national governing body, Scottish Squash, is negotiating with other firms regarding additional sponsorship to upgrade the tournament to a PSA Challenger 20, which would be one of the largest ever prize funds for a squash tournament in Scotland.
Scottish Squash chief executive officer, Maggie Still said:
"Scottish Squash is thrilled to have formed a partnership with Springfield Properties. The Springfield Scottish Squash Open will help to deliver our vision to inspire the next generation of players into our fun, exciting and fitness promoting sport.
"Springfield Properties' sponsorship will enable Scottish Squash to bring a world level squash event to Edinburgh. It will be an event for everyone in Scotland to enjoy and we are hugely grateful."
For further information on the Springfield Scottish Squash Open, click here.